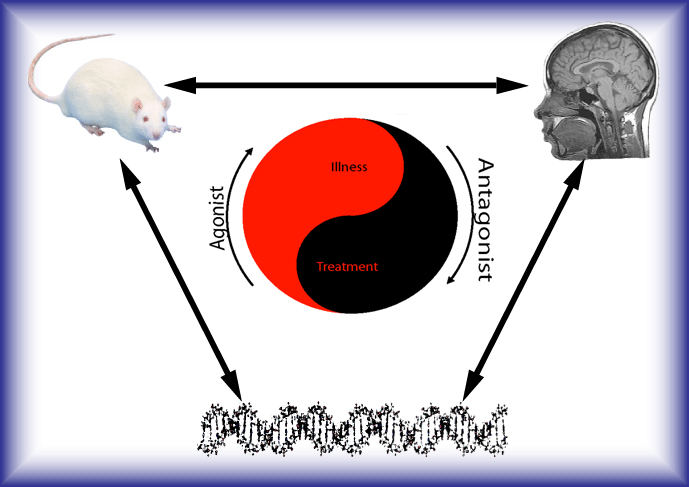 Our Mission: Understanding Minds to Improve Lives
We have been developing and using convergence science approaches since 1998 to map the genomic and phenomic landscape of psychiatric disorders, and using that mapping of psychiatric disorders as a magnifying glass permitting us to examine and understand the normal functioning of the mind. Our work has uncovered the complexity, heterogeneity, overlap and interdependence of major psychiatric syndromes as currently defined by DSM. While some of this overlap might be due to limitations in precision of diagnostic ascertainments in humans and limitations in specificity to a disorder in animal model studies, an alternative and more compelling explanation is that the genetic and neurobiological structure of psychiatric disorders is modular, with building blocks in different permutations leading to a spectrum of phenotype, from different clinical disorders to normal behavior to the supra-normative performance seen in elite troops, athletes, inventors, mathematicians and artists. Our work is pointing to anxiety as being underpinned by cellular and whole-body reactivity, mood by activity, and cognition by connectivity. There is a strong need for a move towards comprehensive empirical dimensional testing (for, we propose, the three dimensions of reactivity, activity and connectivity), and away from categorical diagnostic classifications.
We believe a worthwhile goal is to diagnose and treat patients in an individualized fashion, based on their profile of genes, biomarkers, and phenes (quantitative phenotypic data, including clinical information), using a combination of low-dose rational polypharmacy and lifestyle changes (exercise, nutrition, behaviors), promoting whole-body health, to get synergistic benefits and minimize side-effects. Personalized diagnosis and treatment, for every patient, in every doctor's office!
Biomarkers (for example, certain RNA or protein molecules in the blood) are objective and measurable indicators of a specific biological state or illness. They have the potential to illuminate the pathogenesis of disease and to transform its management. You cannot change what you cannot measure. Biomarkers may aid in tracking disease and selecting appropriate treatments.
"The future is already here – it's just not evenly distributed" -William Gibson
"Knowledge is always a good thing- and more of it should be shared" –Sergey Brin, Google
"A diagnostic tool doesn't have to be 100 percent accurate- just better than what we have now"- Todd Golub, Broad Institute of MIT and Harvard